About This Project
I'm fascinated by the transformation of real world objects into digital representations, and vice versa. One technique, photogrammetry, is particularly intriguing to me. With nothing more than a series of still images and the right software, it is possible to create surprisingly detailed 3D models.
---
After I was able to construct this model of my boot using AutoCAD's 123D catch and a simple digital camera, I began to wonder what other objects might be able to be scanned using photogrammetry. Since the software does not discriminate based on the size of the object, I started thinking bigger.
Knox's campus has many beautiful buildings on it, although the crown jewel is almost certainly "Old Main." Built in 1857, Old Main is most famous for being one of the seven sites of the historic Lincoln-Douglas debates. Located in the center of campus, it is a true Knox icon, and due to its isolation from other buildings and relatively simple shape, also the perfect subject for a photogrammetry scan. Well, almost perfect.
When scanning the boot, I was able to get a "bird's eye view" of the entire object, which is substantially more difficult when the object in question is 40 feet tall. Undeterred, I waited for an overcast day (diffused light helps create better scans), grabbed my camera, and circled Old Main, taking pictures every few paces. Below is the result of the scan after processing the images with VisualSFM, an open source photogrammetry software package:
The proof of concept was there. I applied for, and was awarded, a small research grant to construct a quadcopter with classmates Sam Hart and Izak Gieson, with the goal of rendering the entire building and uploading to Google Earth.
Although we weren't able to collect useful data using the drone, I was able to use the original set of photos with an updated version of 123D catch (Memento) to reconstruct the outer walls of Old Main, and used some artistic liberty in 123D design to recreate the belltower. Once I had a final model, I exported to .STL and printed it on a Zortrax M200 3D printer. Below is the result: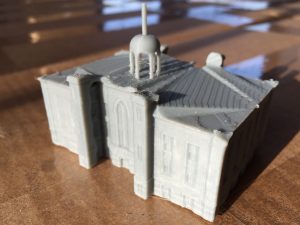 Someday, I'd like to revisit Knox with a quadcopter and attempt to do a new scan. Non-invasive "preservation" of buildings using photogrammetry is something that I would like to pursue in the future. So many important buildings have been lost over the course of history, and the amount of time it takes to document them in this way is well worth the effort.
Additional scans that I've done include two gravestones at Graceland Cemetery on the north side of Chicago: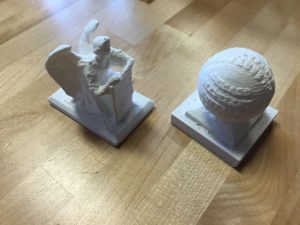 And these beautiful flowers in a vase (this one is probably not printable in its current state):